The third Hybrid Forum took place on the 20th of November 2020. The discussion focused on opportunities and challenges for the development of the food market through EU quality schemes (PDO, PGI, TSG) in Poland. The Hybrid Forum also provided the participants with the opportunity to discuss about the outcomes of the research conducted under WP9.3, namely the problems and future impact of the Food Quality Schemes (FQS) system in Poland. Although the entire Hybrid Forum took place online, the event received good attendance and was characterised by fruitful and important discussions.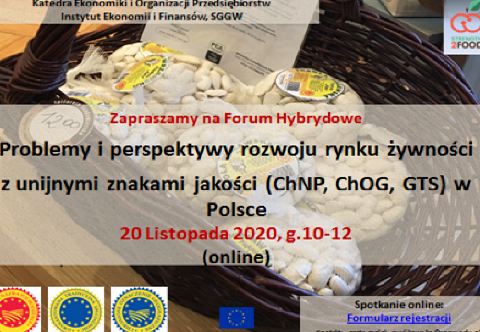 Hybrid Forum 3 in Warsaw – invitation
Two introductory speeches opened the first part of the Hybrid Forum. The first – held by an expert from GIHARS – focused on the opportunities for the development of the Food Quality Schemes in Poland, with a specific focus on the registration and certification process; the second – held by an expert from science – dealt with the challenges of producer groups and the FQS market in Poland. A six experts' panel was then involved in a productive round-table discussion covering all problems of FQS in Poland from different perspectives. The experts represented different stakeholder groups: consumers; FQS producer groups; researchers; the Ministry of Agriculture and Rural Development; and NGO organisation supporting FQS market.
The second part of the Hybrid Forum – a dynamic online public dialogue – involved a wider audience including farmers, experts, and science and policy representatives. The participants highlighted how fresh, processed, and confectionery products are subject to different problems, and a more effective protection of the product's reputation is needed (i.e. fraud-reporting system, penalties, inspections). Moreover, the participants in the dialogue stressed how small-scale production and lack of cooperation with other organisations still represent a remarkable obstacle to Polish producers.